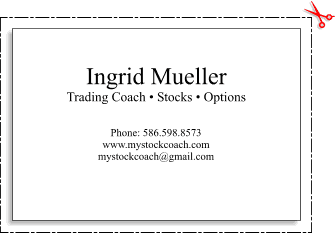 Hello, I'm Ingrid Mueller. Welcome to my website – I'm very glad you're here and hope your visit is the start of a relationship you'll treasure for years to come.
If you've always wanted to learn how to trade stocks and options, this website is for you. Here you can learn a simple but powerful three-step trading method that leverages the power of stock options to make money when stocks go up or when they go down.
I call this method "Trend, Trigger, Trade" and it's the same approach I use every day to filter stocks on my own watch list and identify profitable trades.
This same method will allow you to trade stocks and options with confidence, based on your own ability to read a stock chart and identify the trends and triggers that signal a stock is about to move up or down.
Learning the "Trend, Trigger, Trade" method is a genuine alternative to the buy-and-hold strategy most of us already know.
The overwhelming majority of Americans already own stock, usually in the form of mutual funds that make up an IRA or 401K retirement account. If you're like me, you've probably made regular contributions to one of these accounts at some time during your working life and entrusted the management of your financial future to someone you may not even know.
Chances are good this buy and hold strategy hasn't worked well for you.
Although stock market prices soared several times during the past twenty years, two huge bubbles, the dot-com bubble of the late 1990s and the much more recent housing bubble, eventually burst. These all but wiped out any gains achieved with a buy and hold investment strategy. In fact, the housing bubble plunged our country into its deepest recession since the Great Depression.
The "Trend, Trigger, Trade" method is a different kind of strategy that works outside the Bubble-and-Bust cycle.
You'll learn how to identify profitable trades and make money using stock options. You'll be able to control many shares of stock for a much smaller amount of money than if you purchased the actual stock itself.
You'll learn how to make money when stocks go up or when stocks go down.
You'll learn how to minimize your downside risk and maximize your return.
And instead of holding stocks for months or even years, you'll learn how to make profitable trades that will last anywhere from just a few days to at most a few weeks.
Sound intriguing?
Then let me invite you to attend one of my free "Trend, Trigger, Trade" webinars. These introductory webinars, which explain the advantages and some of the basic concepts of this trading approach, generally take place every four to six weeks.
Subscribe to my notification list (please use the opt-in form at the top of the right sidebar) and I'll keep you posted about upcoming webinars. By signing up, you'll also receive my free newsletter and a free email course on options and options trading.
I look forward to meeting you soon and sharing our passion for the trading life.
Until then, remember: "Today is a great day to trade!"
Sincerely yours,

Ingrid Mueller